Natalie Portman
FULL NAME

Natalie Hershlag

BORN

June 9, 1981, Jerusalem, Israel

ASSOCIATION

Actress

NATIONALITY

American/Israeli

REVIEWED ENTRIES

9 (8)

MAX. RATING

MIN. RATING

AVERAGE RATING

4.07

STRENGTHS

Screen appearance, magnetism
Emotional intensity
FILMOGRAPHY (ONLY REVIEWED ENTRIES)
| | | | |
| --- | --- | --- | --- |
| YEAR | TITLE | ROLE | RATING |
| 1994 | Léon | Mathilda | |
| 1995 | Heat | Lauren | |
| 1996 | Beautiful Girls | Marty | ½ |
| 1996 | Everyone Says I Love You | Laura Dandridge | |
| 1996 | Mars Attacks! | Taffy Dale | |
| 1999 | Star Wars: Episode I - The Phantom Menace | Queen Amidala | |
| 2003 | Cold Mountain | Sara | ½ |
| 2004 | Closer | Alice | ½ |
| 2006 | V for Vendetta | Evey | |
| 2010 | Black Swan | Nina Sayers | |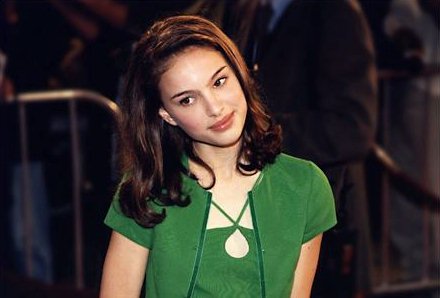 Natalie Portman shot to instant stardom before she was even a teenager, and she became a sex-symbol while merely a child. Her singular performance in Luc Besson's Léon was passionate and multi-layered probably beyound her own comprehension and it put enourmous pressure on her young shoulders.
After Léon, however, Portman chose roles with the greatest of care. Worried that she'd be typecast as a kittensque sex-symbol, Portman said no to the lead in Adrian Lyne's Lolita, but still made one of her best peformances in a similar role opposite Timothy Hutton in Beautiful Girls. Insignificant roles in Woody Allen's Everyone Says I Love You and Tim Burton's Mars Attacks! before she gave a lacklustre performance in George Lucas rejuvenation of Star Wars.
Portman's transition to full-fledged grown up roles has been long anticipated, and through a series of roles in 2003 and 2004, she put herself back on the map of up and coming youngsters. The potential, both critically and commercially, for Portman is arguably without limits. Her talent, looks and intelligence can make her the biggest female filmstar of her time.
The Academy Awards (Oscars)

2005

Nominated for Supporting Actress for Closer

2011

Best Actress for Black Swan
Léon
"The less traditional role belongs to an impressive Natalie Portman, yet another member of the highly-talented, recent group of youthful actors." - James Berardinelli
"Matilda is played with great resourcefulness by Portman" - Roger Ebert
Beautiful Girls
"Portman, playing a charming, precocious 13-year old who develops a crush on Willie, deserves special recognition." - James Berardinelli
Closer
"Portman, in what has been called her first truly adult role (it's certainly nowhere close to Queen Amidala), is also very, very good. Like Owen, she must essay a character who undergoes a complete personality transformation - from vulnerable waif to ice queen seductress. There's a rawness and courage to her work." - James Berardinelli
"Natalie Portman, in her first challenging adult role, confirmes the talent that has been transparent since her extraordinary debut in Léon ten years ago." - Fredrik Fevang
Léon
Léon (Jean Reno): And stop saying "okay" all the time. Okay?
Mathilda (Portman): Okay.
Léon (Jean Reno): Good.
Mathilda (Portman): Leon, I think I'm falling in love with you. It's the first time for me, you know?
Léon (Jean Reno): How do you know it's love if you've never been in love before?
Mathilda (Portman): 'Cause I feel it.
Léon (Jean Reno): Where?
Mathilda (Portman): In my stomach. It's all warm. I always had a knot there and now... it's gone.
Léon (Jean Reno): Mathilda, I'm glad you don't have a stomach ache any more. I don't think it means anything.
Mathilda (Portman): I don't give a shit about sleeping, Leon. I want love, or death. That's it.
Mathilda (Portman): I don't wanna lose you, Leon."
Léon (Jean Reno): You're not going to lose me. You've given me a taste for life. I wanna be happy. Sleep in a bed, have roots. And you'll never be alone again, Mathilda. Please, go now, baby, go. Calm down, go now, go.
Beautiful Girls
Marty (Portman): I might just grow to be five-ten. I'll be hot
Marty (Portman): If I'm not mistaken, you've come back here to the house of loneliness and tears, to Daddy Downer and Brother Bummer, to come to some sort of decision about life, a life decision if you will.
Marty (Portman): Alas, poor Romeo, we can't do diddly.
Paul (Michael Rapaport): So you're the little neighborhood Lolita.
Marty (Portman): So you're the alcoholic high school buddy shit for brains.